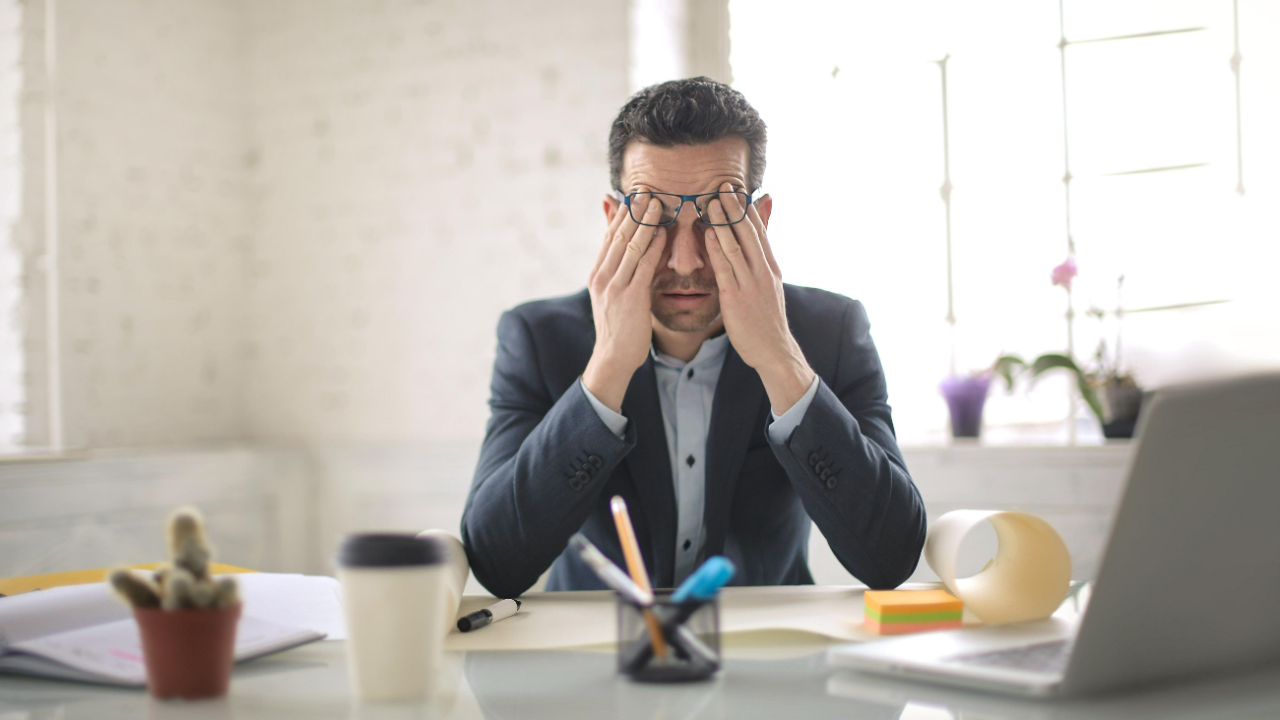 It was early Sunday morning. I didn't expect anyone to be in the factory.
So, I was surprised when I got a major career lesson.
As I walked into the marketing module of the factory, I heard the slow, methodical thunking sound of one-finger typing coming from an executive office.
I peeked inside the open door.
Jim (not his real name) was inside typing, one finger at a time. He was a vice president and never did his own typing.
"What's up Jim? Can I help?"
He looked up with a dry grin and said, "Just keeping things current."
I knew he never typed, and I typed 80 - 100 wpm, so thinking he was transcribing a report due Monday, I asked again. "Can I help you get this out quickly? I'm a fast typist."
He looked me square in the eyes and said,
"Always be ready. Keep your resume current, no matter what.
The next year, in the middle of a recession,
Jim stayed on with "Big Corporate." But within a year, the entire division was sold to a foreign company, and the entire division was closed the following year. All souls on board went down with the corporate ship.
Always be prepared for the next step in your career, whether that next step is being an employee again or becoming an independent consultant.
Click to download the Ultimate Laid Off or Preparing for Layoffs Checklist.
Know someone who could benefit by preparing for layoffs?
Help them by forwarding this link or the PDF checklist to them.
Preparing for a Layoff
Preparing for layoffs or a job change is just plain smart.
You may be loyal to your employer, but the business environment may force "downsizing" that pushes you out. If you are prepared, you can take advantage of the change. If you aren't prepared, you will be hurt.
The preparations below and in the From Corporate to Consulting checklist help build and promote your professional brand whether you remain with an employer or seek a better opportunity.
Stay Aware
Stay aware of what is happening in your industry, company, and department. The economy is in turmoil, and there are massive changes in industries.
Stay on top of what is happening by creating personalized Google News for your industry and company. You can also add Google News Alerts that send you email notices on changes in specific topics.
I quit as manager of competitive analysis for a division of Texas Instruments more than 30 years ago. I could see the disaster that the division was facing and the poor decisions being made. So, I quit and became an independent consultant – one of my best decisions.
Two years later, the division was sold off and later went bankrupt.
Build Your Professional Brand
Some things are essential for your professional brand. Make sure your professional brand is up-to-date and powerful. These are also a foundation for promoting yourself as a consultant or freelancer.
Resume (CV)
LinkedIn profile with photo, banner image, and testimonials
One-page professional website
Case studies emphasizing results
Testimonials and referrals
Align Your Life and Career
Use the Japanese concept of "ikigai" to build a model of what you want in life.
Ikigai helps you understand your life balance between "What you love. What the world needs. What you can be paid for. And What you are good at."
The book "Ikigai: The Japanese Secret to a Long and Happy Life" is a best-seller on Amazon.
Build a Financial Reserve
Whether you plan on going back to a corporate job or want to become an independent consultant or freelancer, you must have at least three to six months of income in reserve.
Experienced consultants make much more income than an employee of equivalent experience, but it takes time to build a stable portfolio of clients. New consultants usually face the Feast-or-Famine income cycle when starting.
To rapidly build your consulting and avoid the Feast-or-Famine cycle, the Consulting Mastery program from Critical to Success teaches how to build your professional brand, build a pipeline of qualified leads, and close new clients using a conversational consulting style.
Increase Your Professional Value
Look for how you can increase your value at work. Talk to your manager or team leader and ask how you can contribute at a higher level.
Make a list of essential contributions or teams you have worked on.
How did you contribute? What was the value to the customer or client? What experience and skills can you bring to a new employer or consulting client?
Use the Case study templates at www.Canva.com to build simple, attractive case studies to build your brand, boost your morale, and promote yourself to future clients or employers.
Create a Consulting Side Hustle
A consulting side hustle can give you increased income, increased connections, and more skills. Some employers encourage consulting as a side hustle if you are not competing with their interests or violating intellectual property rights.
Side hustles are a great way to build your professional brand and network while remaining employed.
Check with your manager and human resources to ensure you do not violate state laws or your employment contract by working in a side hustle.
Click to download the Ultimate Laid Off or Preparing for Layoffs Checklist.

Know someone

who could benefit by preparing for layoffs?
Help them by forwarding this link or the PDF checklist to them.
Laid Off or Preparing for Layoff Checklist
What follows is one of, if not the ultimate, checklist for people preparing to move from corporate to consulting. People who prepare for the transition and build a foundation are more successful in consulting.
Before Leaving, Stay Professional, Safe, and Sane
You have relationships, monetary funds, and "things" at your office. Make sure you can reconnect with people, get ALL the money and benefits you are due, and remember to take your tchotchkes from your office.
If you have been laid off and think this is retaliation or have not been compensated correctly, stay calm and contact an attorney. You may have grounds for a class action suit if there are grounds.
Never communicate with fellow employees over the company email or phone anything negative or that could be used against you in court.
Personally, thank people who have contributed to your career. This is both a nice thing to do, and it opens the opportunity for a referral from them in the future.
Before leaving work, secure what is yours.

Never take physical, monetary, or data assets like client lists that belong to the company. You could be charged with theft.
Make copies of non-confidential work results, press releases, and contact lists you might need. Do not violate confidentiality laws.
Get non-business email addresses and phone numbers of people in your personal and business network. Ask people to email their contact info to you at your personal email address. Some companies have cut-off email without warning, and people have lost all contacts.
Make copies of non-proprietary work results that you can use to create Case Studies for your portfolio.
Take all the tchotchkes (personal items) from your office.
Take your plants that your office mate never liked and always forgot to water.
Stay Grounded. It's Not About You.
Always be prepared to be laid off. This is not paranoia but a simple survival tactic for the modern world.
You are valuable. Getting laid off in this time of turmoil is not your fault. It is the economy and your former employer. You are experienced, skilled, and proficient. You have value.
It's Ok to feel emotionally lost, bewildered, or betrayed. For many professionals, their job is a large part of their identity. Losing your job can make you reexamine who you are and your value.
Stay connected to your network.
Schedule time for yourself to do alone things you enjoy.
Schedule time to meet with friends and let it out.
Use the free and low-cost online sites to recenter and ground yourself. Sites that have worked well for me are,

Listen to Calm.com for meditation, self-improvement talks, and sleep-inducing stories. Some HMOs, like Kaiser-Permanente, provide free Calm subscriptions to their members.
Center yourself by listening and watching free or low-cost podcasts and videos on TED talks and YouTubes from philosophers and teachers like Sam Harris, Brene Brown, Thich Nhat Hanh, and Eckhart Tolle.

Stay in shape and be energetic. Many online exercise and yoga classes have free programs—schedule walks and talks with your friends to stay connected.
Find what builds your energy and motivation. It might be running, biking, listening to your favorite podcasts, energizing music playlists, or hiking with friends. Be consistent and do it!
Learn What is Available from Human Resources
In most states and for most employment contracts, the law requires that when you are laid off, you are compensated for expense reimbursements, Health Savings Accounts (HSA), retirement accounts, medical coverage, unemployment insurance, and more. Search the web for what you are owed according to your state laws.
Meet with Human Resources as soon as possible and understand what funds and benefits you are owed.
Find out what your severance package is. It may vary depending on years of employment, etc. You may be able to negotiate.
If you have a Health Savings Account, it is yours. Learn what you need to do to manage it.
Learn what healthcare benefits are available to you and your family through COBRA.
Get reimbursed for any outstanding travel or business expenses.
Learn what you need to do to file for unemployment.
Find out what the company process is for referrals. Is there a formal process with an 800 number, or can a future employer contact your co-workers?
Ask for a copy of non-compete laws for your state. Working as a consultant or freelancer is an excellent way to earn more income, have greater independence, and build your professional skills. But you do not want to violate state laws or employer non-compete agreements.
Can your executive, manager, or co-workers post referrals and recommendations to your LinkedIn profile?
Are you eligible for rehire? If HR has you identified as ineligible for rehiring, find out why. How will this impact referrals?
Will your ex-employer pay for outplacement services? Harvard Business Review found employment is three times higher with an outplacement service.
Manage Your Money
You must conserve cash and manage your budget while preparing for another career.
Plan Your Next Steps
If you were laid off, you are probably anxious and hurt. But this can be an opportunity to discover what you want in life. Do you want to continue on the same path, or do you want to pick up new skills and start a new career?
Reach Out to Your Network
Your business network is critical to starting your new consulting business or networking for a new corporate job.
Connect with and stay in touch with others in your business network who have been laid off.
Maintain your personal support network. Meet up for drinks and dancing, and go hiking. Use MeetUp.com to reach out and connect with new people.
Join local industry associations. Attend their dinner meetings and work with their board of directors.
Connect with others you know who have been laid off and create an Accountability Group. Set times, tasks, and goals and hold each other accountable.
Search LinkedIn for hashtag groups for your industry. Go to the search bar and type # followed by your best guess and lists of groups will appear. Join these groups to see events and contacts.
Apply the "Open to Work" setting to your LinkedIn profile.
Leverage Your Network
Referrals are the biggest source of new job opportunities and consulting opportunities for new consultants. Email your business acquaintances and let them know you are open to new opportunities. Referrals also produce the highest close rate for full-time or side hustle consultants.
Get testimonials about your corporate work. Use it in LinkedIn referrals, case studies, and your one-page professional website. Testimonials are the strongest form of endorsement and promotion. Critical to Success recommends this easy method of getting testimonials.
Create a powerful, high-authority LinkedIn profile. This is something we work on extensively in the Consulting Mastery courses.
Use Canva.com to create attractive professional case studies of work and results. No one writes or reads long-text case studies. Make it pop and sizzle with a Canva layout.
Build a one-page professional website and include case studies that highlight your results.
Create search criteria and automated job referral notices for Indeed.com and www.ZipRecruiter.com. Our consulting courses teach new consultants how to quickly find jobs and laser-target ideal clients using Indeed and ZipRecruiter. If you decide to become a consultant, you can use www.Indeed.com and www.ZipRecruiter.com to find consulting opportunities.
Prepare scripts for your interview. Search the web for tips on the structure and questions you want to use in your interview.
Go from Corporate Employee to Independent Consultant
If you are experienced in your field and have six months of cash reserve for a startup, consider becoming an independent consultant. Independent consultants consistently earn more income, have greater independence, and have higher job and life satisfaction than their corporate peers.
Check the blog on How to Start Consulting on the Side and related Consulting Startup blogs at Critical to Success for information on starting and building a highly successful independent consulting.
Ron Person, the founder of Critical to Success, coaches new and experienced consultants in starting and growing their independent consulting businesses

. Ron has 30+ years of consulting experience with regional non-profits and Fortune 1000 and Global 1000 corporations in Microsoft technologies, corporate strategy, and digital marketing.
Click to download the Ultimate Laid Off or Preparing for Layoffs Checklist.
Know someone who could benefit by preparing for layoffs?
Help them by forwarding this link or the PDF checklist to them.


Additional Resources on Critical to Success
Strategies, Tactics, and Tips for
Consultants and Independent Professionals
Stay up to date with the latest opportunities, strategies, tactics, and tips for
independent consultants and professionals.
We hate SPAM. We will never sell your information, for any reason.